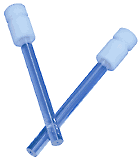 Cheminert glass connectors
Glass connectors join a Cheminert tube end fitting to 1/4" OD glass tubing. They are available as individual components or as complete assemblies. Assemblies include a bushing and nut, a polypropylene or CTFE split ring, and a 1/4" OD x 3-1/4" long piece of 1 mm or 2 mm ID glass tube.
This connector works only with our glass tubes.

Description
Material
Product No.
Complete
assembly
1 mm ID glass tubing
Acetal
CGC41
CTFE
CGC41KF
2 mm ID glass tubing
Acetal
CGC42
CTFE
CGC42KF
Components
Bushing
Acetal
CGCB
CTFE
CGCBKF
Nut
Acetal
CGCN
CTFE
CGCNKF
Split rings (pkg/5)
Acetal
CGCR
CTFE
CGCRKF
Glass rod, 3-1/4" long
1 mm ID
—
CGCG41
2 mm ID
—
CGCG42