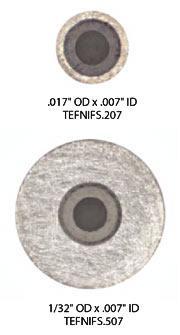 Thin wall version for resistive heating offers improved heat transfer as compared to wire-wrapped designs
With temperature measurement based on the change in resistance, column packages have even less mass
Thick wall version allows direct connection using metal ferrules
Rated for up to 20,000 psi (dependant on size and plating thickness)
Any polyimide-coated FS can be electroplated with pure nickel. This results in a ruggedized traditional FS column (or transfer line with deactivated FS), which can be resistively heated, if desired. Temperature is measured using the resistance of the nickel, removing any need for external sensors. A thin-wall, low mass version optimized for resistive heat applications is available in eight different diameters. We offer several options for tubing connections.
1/32" OD tubing is available in IDs from 10 to 250 µm, permitting use of metal ferrules for improved leak-tight connections - ideal for temperature programmed applications.
Contact our tech support to discuss your application.
Optional gold plating
Nickel-clad polyimide-coated fused silica tubing is also available with gold-plated ends.